Having carved a name for themselves in Western Australia's strong indie-rock scene, King Blue have now capitalized on momentum from the success of previous singles 'Games', Breathless' & 'Pity Love' to introduce their rapidly emerging fanbase to their debut EP,  'Through A Screen'. Combining the juxtaposition of both soulful and emotional, alongside upbeat and coastal, King Blue's talent shines through in each song, showcasing a different side of the West Coast quintet in each track. A carefully curated body of 5 tracks, 'Through A Screen' soars at just the right moments, with intimate instrumentation tugging at heartstrings when needed, King Blue's impeccable musical timing shining through.
 
Working through the rollercoaster of discovery that is creating a debut release, King Blue have had their eyes on a full body of work for over a year now, slowly chipping away at the EP, until being able to finally bring it to the studio. The band returned to constant collaborator Andy Lawson (Tired Lion, Eskimo Joe, Gyroscope) to track the EP, working from his Debaser Studio in Perth. The finishing master was applied by William Bowden (The Living End, Gotye, Spacey Jane), wrapping up production on the EP only weeks before release.
 
"Our debut EP contains 4 songs that really juxtapose each other; 2 of them following a similar structure with more of a soulful, emotional theme that ends powerfully. With the other 2 songs showcasing an upbeat and coastal vibe that's easy to bop along to. We really wanted to display the range that we enjoy writing and playing in the first EP that we release." King Blue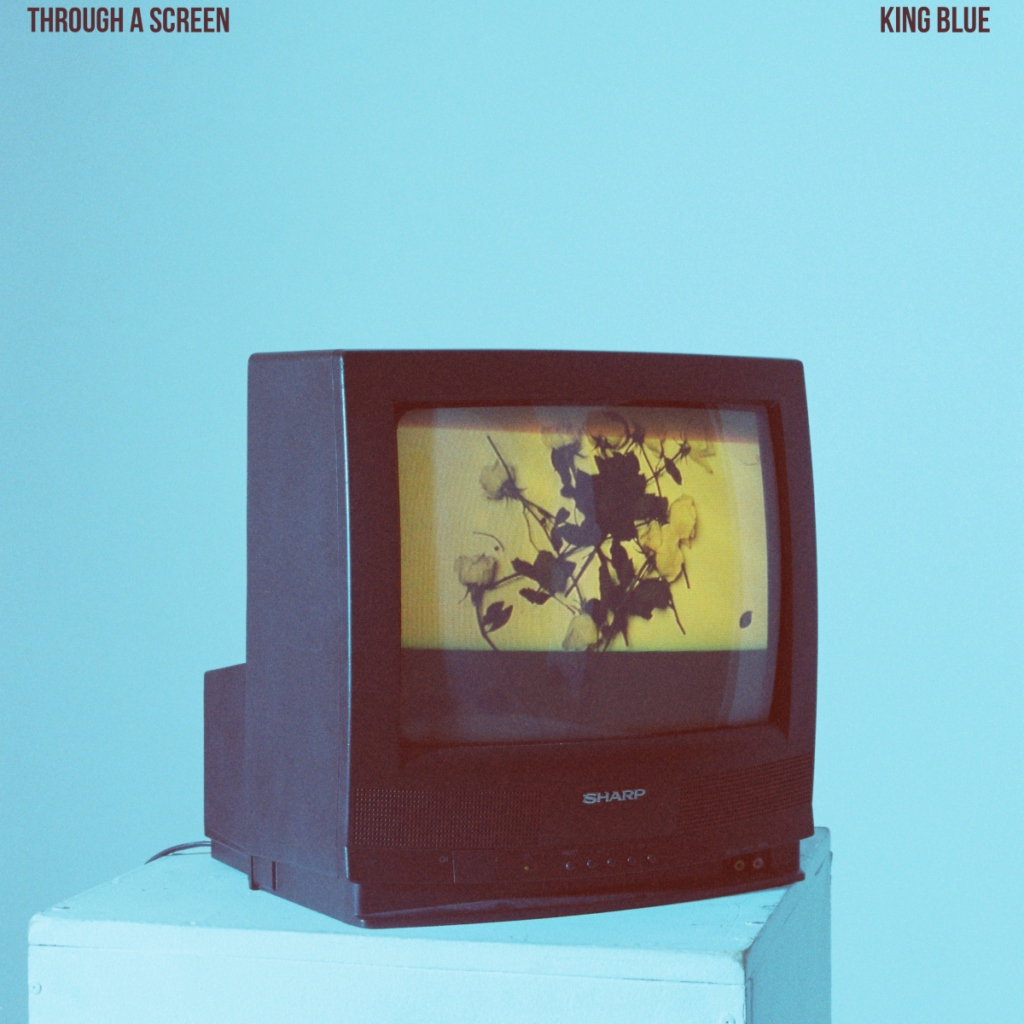 "Creating this EP was something that was really special to us because it's been a goal that we've wanted to fulfill for quite some time, and now that it's finally all come together we feel like we've ticked a huge box on our list. The writing process was such a rollercoaster, but we loved every minute of writing and rewriting parts, and filling in the gaps at the last minute. We're super proud of the final product and hope it's something our listeners can get around." King Blue
Have plied their trade constantly in Western Australia for over two years now, the band are ecstatic to finally have their first trip East confirmed and announced, kicking off in Albany, before heading over to Wollongong, Sydney & Melbourne, before returning for triumphant shows in Margaret River, Scarborough & Fremantle. With audiences in Perth and surroundings hanging on their every word & lead-line, it will only be a matter of time before East Coast fans are also demanding King Blue return.
 
"We're honestly still in disbelief that we're going on our first tour. After so much stressing and planning, we finally have all our dates locked in and it feels surreal. Not only have we finished writing our debut EP, but we're going on our first national tour and that's just crazy for us to think about. We are beyond excited to meet new people and showcase what we've got to a whole new crowd over east. It's been a huge year for us, and we're super grateful for all the support we've gotten. We can't wait." King Blue
 
As a band that's emerging as front-runners in Perth's indie-rock scene, 'Through A Screen' is their stamp of the King Blue sound, bringing audiences into their world & beginning to develop their unique musical voice. Poised to release their fifth single & with a quickly emerging fanbase, King Blue are stamping their name as a West Australian artist to watch in 2022. Having previously shared stages with San Cisco, Death By Denim, The Rions, Great Gable & Caravana Sun, they've cut their teeth in front of large audiences, who did not leave disappointed. 
 
Strong support online followed, with Spotify editorial playlisting ('Local Noise') & triple j Unearthed coverage. With 150,000+ streams on previous single 'Games', as well as strong support on 'Breathless' & 'Pity Love' King Blue cannot wait to share their emphatic & poignant new EP 'Through A Screen' with their fanbase of rapidly growing audiences.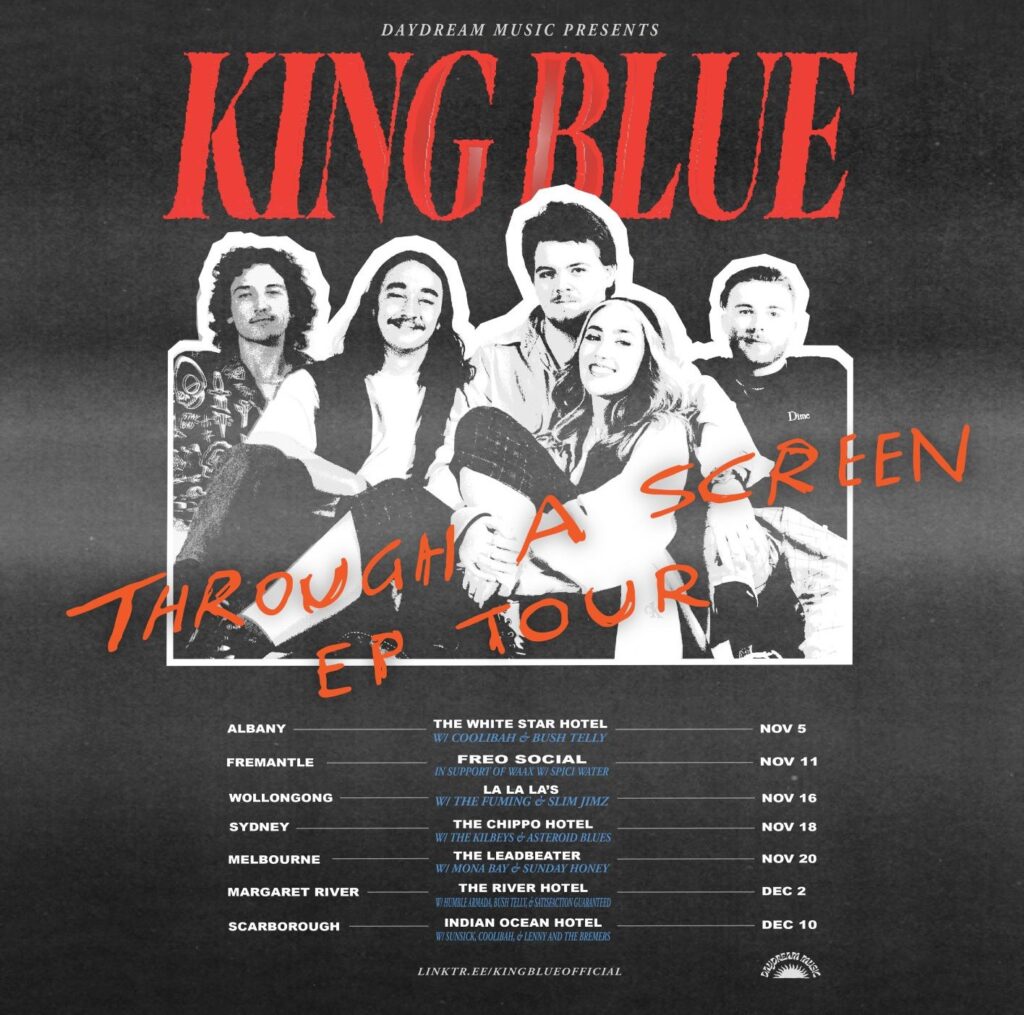 KING BLUE 'THROUGH A SCREEN' EP RELEASE TOUR
Tickets available through: linkre.ee/KingBlueOfficial
Sat Nov 5th – The White Star Hotel Albany
w/ Coolibah & Bush Telly
Weds Nov 16th – La La La's Wollongong
w/ The Fuming & Slim Jimz
Fri Nov 18th – The Chippo Hotel Sydney
w/ Slim Jimz & Asteroid Blues
Sun Nov 20th – The Leadbeater Melbourne
w/ Mona Bay & Sunday Honey
Sat Nov 26th – The River Hotel Margaret River
w/ Little Guilt, Residents Club & Bush Telly
Sat Dec 10th – Indian Ocean Hotel Scarborough
w/ Sunsick, Coolibah & Lenny and the Bremers
Sun Dec 11th – Freo Social Fremantle
Supporting WAAX w/ Spici Water

 
'Through A Screen' is out Tuesday, November 1st
Facebook | Instagram | YouTube | Triple J Unearthed | Website